AUSTRALIA | ASIA | EUROPE | AMERICAS
Luxury is a curious thing. It is a richness of life. A freedom of vision. An impractical creativity and artistry. A potency, magic and drama. An intrigue and beauty.

And yet, it is also the practical. The safety of generational love and heritage. The absolute attention to every detail. The dependability of a known haven filled with ancestral pieces.
My clients demand luxury. They also demand personal attention. They demand absolute and utter trust.
I have made my career working with some of the most accomplished and successful families and companies who entrust their homes, their havens, their businesses and their lives to me.
Every single project is bespoke. I am not known for a trend, a style or a particular taste. And, this is my greatest asset.
Every project is personal. Specific. Yet there are no rules. Just a deep trust, that invariably ends in absolute and utter joy.
My team and I have a rule that if the client doesn't cry with complete joy when the keys are handed over, we have not done our job. Thankfully, this has not happened yet in my more than two decades as a designer.
In 2023, I will take on no more than 6 projects. These projects will be extraordinary. The clients and I will choose one another carefully, and we will develop a deep level of trust. There will be no implanting of an idea from one project to another. They will represent their own form of luxury in every way.
I invite you to come on the journey with me. Our time together will be life-altering and personal and luxurious in every way.
Let us begin.
KATARINA BARAKOVSKA
AUSTRALIA'S LEADING
LUXURY INTERIOR DESIGNER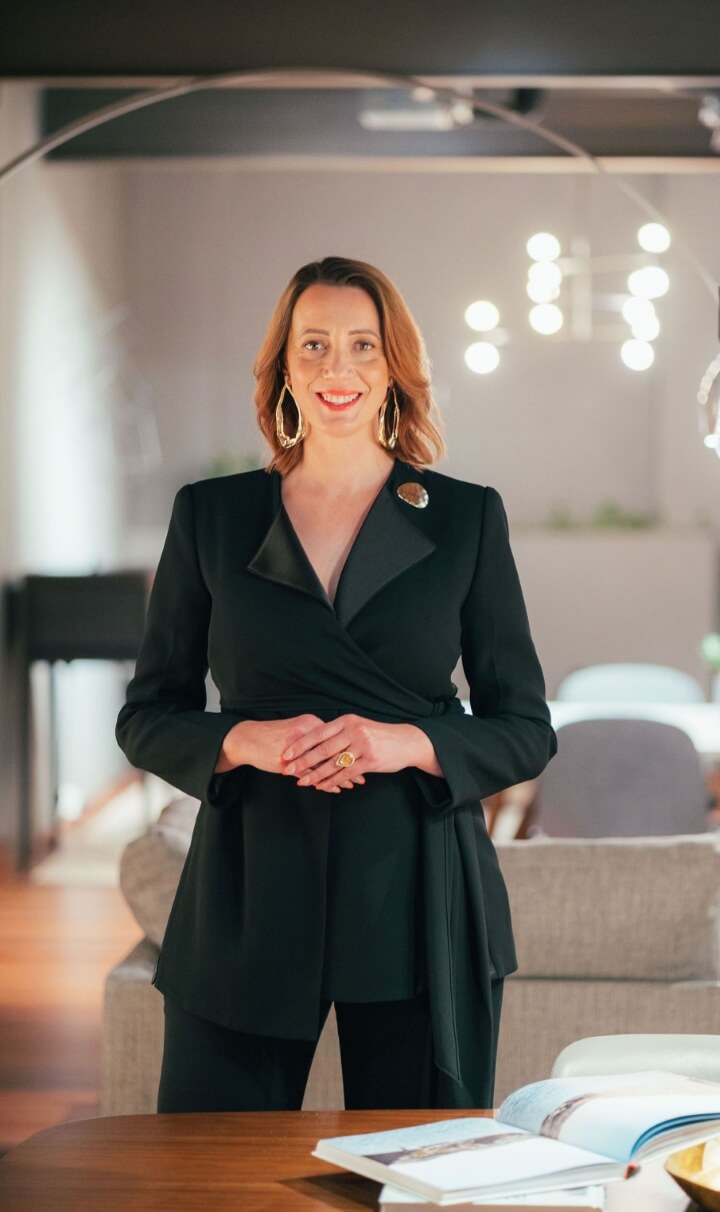 Katarina Barakovska, the Founder of leading Perth-based Interior Design company, Moda Interiors, is a globally recognised, highly sought-after Interior Designer, working on firebrand projects across the world.
Katarina and the Moda brand have featured in Design Et Al's annual publication of The Worlds' Leading Design Names; and have been shortlisted for various categories at the International Design & Architecture Awards.
After 16 years of dedicated service, Katarina decided to take on a small group of intimate clients and projects each year under her own private brand, leaving the highly-skilled Moda Interiors team to manage their loyal local clients.
With over 20 years industry experience in international design and project management on design projects across Australia, Asia and Europe, Katarina has become known for her timeless, award-winning work. She fosters close relationships with clients that enables them to create pieces of art – not just projects – that truly reflect the visions of the owners personally and professionally .
Katarina has elite partnerships with top international brands like Miele and Auto Classic BMW, as well as exclusive arrangements with unique global suppliers of exquisite furniture, homewares, fittings and fixtures., and world-class artisans sought-after by the most discerning clients and designers.
Katarina's passion is creating innovative, elegant made-to-measure living and work spaces for her clients. She is committed to bringing her clients' imagination into life by blending form, function and opulence, while paying homage to heritage, legacy and brand vision. Kate has over two decades experience in interpreting modern global trends and fusing them with her clients' vision, budget and expectations, to develop a perfect interior fit out.
Under the Katarina Barakovska brand, Kate's private clients experience potent creativity and deep levels of service direct from one of the world's most celebrated designers.
With her Eastern European background – Macedonian, on both sides – Kate is deeply entrenched in the values of being culturally and globally inspired.
Kate has hosted countless events with Miele and BMW; was listed in Design Et Al's Worlds' Leading Design Names and was nominated for international design awards. Despite operating a design studio from the most isolated city in the world, Kate continues to be awarded with international contracts for homes and commercial developments alike.
Katarina Barakovska is taking on no more than 6 clients a year to ensure the highest quality attention to detail, innovation and service. Her clients are global, require turnkey service and enjoy a full concierge approach to their liuxury designs.